DAYTONA HOOD $395.00----STANDARD GROUND EFFECTS ----HIGH PEDESTAL WING $295.00

82-92 FIREBIRD Catalogue-(BACK TO)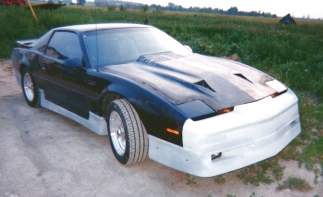 VISION STYLING KIT- $895.00
fits all firebirds and trans ams-Includes:
FRONT BUMPER, REAR BUMPER, LOWER SIDESKIRTS, FRONT AND REAR EXTENSIONS. (2-21/2"DROP) stock t/a doorskirts fit or we can supply optional)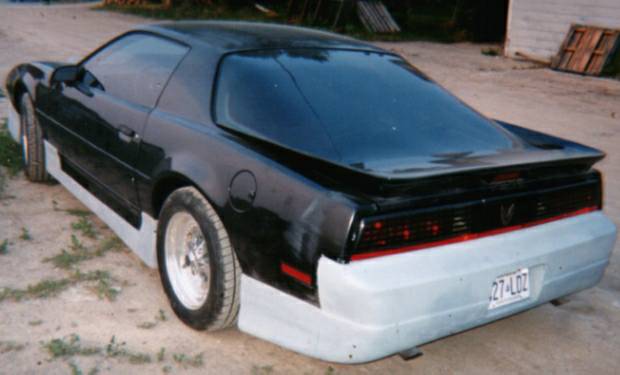 Wrap wings now in production!
85-90 and 91-92 styles available. $369.00 bolt-on no-wave fiberglass FEB. SALE -$349.00
Stock Ground Effects also available -$569.00 / 8pce set.

82-92 FIREBIRD Catalogue-(BACK TO)
82-92 RAM AIR HOOD $495.00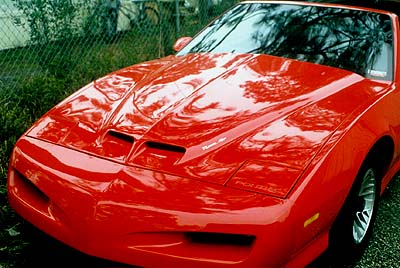 82-92 FIREBIRD Catalogue-(BACK TO)
82-92 S/C RAM AIR HOOD $695.00 / With functional kit $795.00

| | | | | | | | |
| --- | --- | --- | --- | --- | --- | --- | --- |
| 82 | 92 | Pontiac | Firebird | st699-00 | Rocker Panel 2Dr. Ext. | | $ 23.00 |
| 82 | 92 | Pontiac | Firebird | st699-12 | Door Skin Lower | | $ 19.50 |
| 82 | 92 | Pontiac | Firebird | st699-20 | Inner Door Bottom | | $ 16.00 |
| 82 | 92 | Pontiac | Firebird | st834-28 | Hood Standard Firebird (w/o louvre holes) | | $ 160.00 |
| 82 | 92 | Pontiac | Firebird | st834-28-1 | Hood Trans Am Only w/louvre holes | | $ 210.02 |
| 82 | 92 | Pontiac | Firebird | st834-31L | Front Fender Firebird Only | * | $ 95.00 |
| 82 | 92 | Pontiac | Firebird | st834-32L | Front Fender Trans Am w/ louvre openings | | $ 95.00 |
| 82 | 92 | Pontiac | Firebird | st834-33R | Right Front Fender w/o Louvre Openings 85-90 Firebird only And all models | | $ 95.00 |
| 82 | 92 | Pontiac | Firebird | st834-34 | Front Fender Trans Am w/ louvre openings | | $ 95.00 |
| 82 | 92 | Pontiac | Firebird | st699-46-C | Floor Pan Full Length (specify L or R ) | | $ 262.15 |
| 82 | 92 | Pontiac | Firebird | st699-49 | Radiator Support | | $ 38.00 |
| 82 | 92 | Pontiac | Firebird | st699-49-A | Upper Tie Bar | | $ 51.09 |
| 82 | 92 | Pontiac | Firebird | st699-49D | Lower Rie Bar Outer | Specify L or R | $ 33.45 |
| 82 | 92 | Pontiac | Firebird | st834-50L | Quarter Panel Skin | | $ 102.00 |
| 82 | 92 | Pontiac | Firebird | st834-60L | Rear Fender Panel Lower | | $ 16.00 |
| 82 | 92 | Pontiac | Firebird | st699-76-C | Trunk Well | | $ 168.53 |
| 82 | 92 | Pontiac | Firebird | st699-83 | Rear Impact Bar | | $ 69.00 |
| 82 | 92 | Pontiac | Firebird | st834-84 | Front Impact Bar | | $ 55.00 |
| 82 | 92 | Pontiac | Firebird | st834-84-1 | Front Impact Bar | | $ 80.49 |
| 82 | 92 | Pontiac | Firebird | st834-88 | Front Bumper Cover Firebird Only | | $ 154.06 |
| 82 | 92 | Pontiac | Firebird | st834-88-1 | Front Bumper Cover Trans Am/GTA | | $ 154.06 |
| 82 | 92 | Pontiac | Firebird | st963-102-U | H.L. Assy. Univ. (Hal.) | | $ 32.07 |
| 82 | 92 | Pontiac | Firebird | st963-121 | Foglight Lens w/Reflector - Universal | | $ 37.00 |
| 82 | 92 | Pontiac | Firebird | st699-130-CU | Inside Door Handle Chrome - Univ. | | $ 9.77 |
| 82 | 92 | Pontiac | Firebird | st630-135-B | Outside Door Handle Black | | $ 8.00 |
| 82 | 92 | Pontiac | Firebird | st630-135-C | Outside Door Handle Chrome | | $ 8.00 |
| 82 | 92 | Pontiac | Firebird | st699-170 | Front Side Marker Lamp | | $ 7.48 |
| 82 | 92 | Pontiac | Firebird | st834-190 | Taillamp Lens Firebird standard/Formula | | $ 34.35 |
| 82 | 92 | Pontiac | Firebird | st739-620-BU | Window Crank Handle w/ Black Knob | | $ 3.83 |
| 82 | 92 | Pontiac | Firebird | st739-620-CU | Window Crank Handle w/ Clear Knob | | $ 3.83 |
| 82 | 92 | Pontiac | Firebird | stGM27A | Gas Tank 14 US Gal. W/Pump | | $ 126.39 |
| 82 | | Pontiac | Firebird | g4360 | Custom Hi-Rise Hood | IMSA, Bolt-on | |
| 82 | | Pontiac | Firebird | g4361 | Custom Hi-Rise Hood | IMSA, Pin-on | |
| 82 | | Pontiac | Firebird | g4362 | Rear Fender | IMSA | |
| 82 | | Pontiac | Firebird | g4363 | Front Fender | IMSA | |
| 82 | | Pontiac | Firebird | g4364 | Rear Trunk Panel | IMSA | |
| 82 | | Pontiac | Firebird | g4365 | Lower Door Air Deflectors | IMSA | |
| 82 | | Pontiac | Firebird | g4366 | Rear Bumper | IMSA | |
| 82 | | Pontiac | Firebird | g4367 | 3 Piece Front Spoiler | IMSA | |
| 82 | | Pontiac | Firebird | g4368 | Front Bumper and Nose | IMSA | |
| 82 | | Pontiac | Firebird | g4369 | Rear Spoiler | IMSA | |
| 82 | | Pontiac | Firebird | g4370 | Rear Spoiler | Trans AM | |
| 82 | | Pontiac | Firebird | g4374 | Roadrace Flairset | IMSA | |
| 82 | | Pontiac | Firebird | g4375 | Pro Front End | Without Hood w/ bumper | $ 695.00 |
| 82 | | Pontiac | Firebird | g4376 | Pro Front End | w/o hood w/ bumper & 2" extension | $ 695.00 |
| 85 | 90 | Pontiac | Firebird | g | T/A Pro front end | w/o hood w/ bumper w/o ground effects | $ 695.00 |
| 85 | 90 | Pontiac | Firebird | g | T/A Pro front end | w/o hood w/ bumper & ground effects & 2" extended | $ 695.00 |
| 85 | 90 | Pontiac | Firebird | g | Pro front end | w/o hood w/ bumper & ground effects & 6" extended | $ 695.00 |
| 82 | 90 | Pontiac | Firebird | g4377 | Rear Bumper | | $ 169.00 |
| 91 | 92 | Pontiac | Firebird | g | Rear Bumper | | $ 199.00 |
| 82 | | Pontiac | Firebird | g4378 | Rear Bumper Clip | | |
| 82 | | Pontiac | Firebird | g4379 | Flat Hood stock | * | |
| 82 | 90 | Pontiac | Firebird | g4380 | Flat Hood stock | Pin-on | $ 269.00 |
| 82 | 90 | Pontiac | Firebird | g4381 | Flat Hood stock | Bolt-on | $ 369.00 |
| 82 | 92 | Pontiac | Firebird | g | Flat Hood | w/ headlight doors pin-on | $ 259.00 |
| 82 | 92 | Pontiac | Firebird | g | Flat Hood | w/ cut outs for pop-up headlights pin-on | $ 259.00 |
| 82 | 92 | Pontiac | Firebird | g | Flat Hood | w/ cut outs for Pop-up headlights bolt-on | $ 349.00 |
| 91 | 92 | Pontiac | Firebird | g | Flat Hood | w/ headlight doors pin-on | $ 279.00 |
| 82 | | Pontiac | Firebird | g4382 | Turbo Hood | Pin-on | $ 349.00 |
| 82 | | Pontiac | Firebird | g4383 | Turbo Hood | Bolt-on | $ 449.00 |
| 82 | | Pontiac | Firebird | g | 4" cowl hood | Pin-on | $ 349.00 |
| 82 | | Pontiac | Firebird | g | 4" cowl hood | Bolt-on | $ 449.00 |
| 82 | | Pontiac | Firebird | g | Daytona Hood | Pin-on | $ 329.00 |
| 82 | | Pontiac | Firebird | g | Daytona Hood | Bolt-on | $ 429.00 |
| 82 | | Pontiac | Firebird | g | Ram Air Twin scoop | Pin-on | $ 349.00 |
| 82 | | Pontiac | Firebird | g | Ram Air Twin scoop | Bolt-on | $ 449.00 |
| 82 | | Pontiac | Firebird | g4385 | Door | w/o posts & rockers | $ 275.00 |
| 82 | | Pontiac | Firebird | g | T/A Doors | w/ posts & ground effects | $ 295.00 |
| 82 | | Pontiac | Firebird | g4386 | Door Skin | | |
| 82 | 92 | Pontiac | Firebird | g4387 | Lexan Winshield | 1/8" standard | $ 169.00 |
| 82 | 92 | Pontiac | Firebird | g | Lexan Winshield | 3/16" standard | $ 195.00 |
| 82 | 92 | Pontiac | Firebird | g | Lexan Door glass | standard | $ 79.00 |
| 82 | 92 | Pontiac | Firebird | g | Lexan Winshield | 1/8" scratch resistant | $ 229.00 |
| 82 | 92 | Pontiac | Firebird | g | Lexan Winshield | 3/16" scratch resistant | $ 259.00 |
| 82 | 92 | Pontiac | Firebird | g | Lexan Door glass | Scratch resistant | $ 159.00 |
| 82 | | Pontiac | Firebird | g4388 | Molded Lexan Hatch | | |
| 82 | | Pontiac | Firebird | g4389 | Door Glass | | |
| 82 | | Pontiac | Firebird | g4390 | Dash | 2 Piece | $ 249.00 |
| 82 | | Pontiac | Firebird | g4391 | Roof Clip | | |
| 82 | | Pontiac | Firebird | g4392 | Wheel Well | | |
| 82 | | Pontiac | Firebird | g4393 | Rear Spoiler | Kamei | |
| 82 | up | Pontiac | Firebird | g4357 | 1 piece front end | | |
| 82 | up | Pontiac | Firebird | g4358 | Hood | L-88 Bolt on | $ 449.00 |
| 82 | up | Pontiac | Firebird | g4359 | Hood | L-88 pin on | $ 349.00 |
| 82 | up | Pontiac | Firebird | g4371 | Hood | 69 Z28 Bolt on | |
| 82 | up | Pontiac | Firebird | g4372 | Hood | 69 Z28 Pin on | |
| 82 | up | Pontiac | Firebird | g4373 | 5" Snorkel hood | | |
| 82 | up | Pontiac | Firebird | g4394 | 7" Snorkel hood | | |
| 82 | up | Pontiac | Firebird | g4395 | Fender Front | | $ 249.00 |
| 83 | up | Pontiac | Firebird | g | Rear Fender | | $ 249.00 |
| 82 | up | Pontiac | Firebird | g4396 | stock Nose | pc. / front bumber | |
| 82 | up | Pontiac | Firebird | g | Hatchback | Pin-on | $ 149.00 |
| 82 | up | Pontiac | Firebird | g | Targa style Hatchback | Bolt-on | $ 795.00 |
| 85 | 90 | Pontiac | Firebird | g | T/A Aero Package | 6 pce under/on doors | $ 449.00 |
| 82 | 84 | Pontiac | Firebird | g | T/A Aero Package | 7 pce | $ 579.00 |
| 91 | 92 | Pontiac | Firebird | g | Ground effects | 4 pce doors/rear tires | $ 295.00 |
| 82 | up | Pontiac | Firebird | g4397 | frt spoiler | 3 pc. / front spoiler | |
| 82 | up | Pontiac | Firebird | g4398 | rear wing-(pedestal) | Bolt on | |
| 82 | up | Pontiac | Firebird | g | rear wing-(85wraparound) | | |
| 82 | 92 | Pontiac | Firebird | g | rear wing-(91wraparound) | | |
| 82 | 92 | Pontiac | Firebird | g | Vision styling Kit | 4 pce w/o door & skirts | $ 749.00 |
| 82 | 92 | Pontiac | Firebird | g | Vision styling Kit | 6 pce | $ 849.00 |
| 82 | 92 | Pontiac | Firebird | g | Front airdam/bumper | | $ 295.00 |
| 82 | 92 | Pontiac | Firebird | g | Rear bumper | w/ skirt | $ 295.00 |
| 82 | 92 | Pontiac | Firebird | g | Sideskirts | | $ 195.00 |
| 82 | 92 | Pontiac | Firebird | g | Doorskirts | | $ 129.00 |
| 82 | 92 | Pontiac | Firebird | g | Rear wing spoiler | | $ 195.00 |
| 82 | 92 | Pontiac | Firebird | g | Wraparound rear wing | | $ 349.00 |
| 82 | 92 | Pontiac | Firebird | g | Vision Wraparound wing | larger | $ 395.00 |